Dividend Investor Guidelines
Dividend Investor Guidelines for choosing reliable dividend payers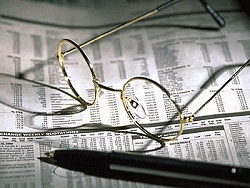 Dividend investors and income investors look for reliable dividend payers wich have strong business fundamentals. They shoud be a strong generators of cash which requires popular products or services, healthy margins and limited capital expenditure requirements. Preferably these businesses have sustainable,long term advantages over competitors through unique assets or skills which will help the business produce high levels of profitability for years to come.
Balance sheet strength is critical in ensuring the company doesn't run into trouble during cyclical downturns, causing it to slash dividends. It can be wise to have some debt but the appropriate amount depends on the reliability of cash flow and earnings and how readily business assets can be sold if need be. As a guide for a generic industrial company, debt/equity should be under 50% and earnings before interest and tax should cover interest expense by five times or more.
Check the dividend history for dividend reliability. Look back over the previous five years, preferably 15 years or more if the company has been in the same business, to be sure the dividend hasn't been cut in that time.
Payout ratio (dividend per share divided by earnings per share) should be comfortably under 80% – preferably closer to 70%. This reduces the likelihood of a need to reduce the payout should earnings decline in any one year. We are wary of companies with 100% payout ratio because it means little or no funds are being reinvested to strengthen the business.
Return on equity, the profit divided by total shareholders' equity, should be above 10%.
Observation of these guidelines should support the building of a portfolio of lower risk yield- based investments. Relaxing some of the constraints will provide more investment choices but with added risk.